Wartburg Knight
Submitted by

uglyphil

on Tue, 03/07/2017 - 15:28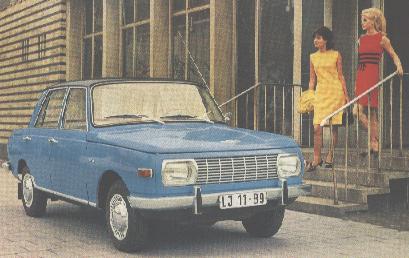 via Phil Luxton.
1974 Wartburg Knight Saloon.
My first car after passing my driving test in 1981. Cost me £80.
East German, 900 cc, three-cylinder, two-stroke engine, driving the rear wheels. Advanced features included a Freewheel drive option, to disengage the engine, saving fuel going down hills! And three separate ignition coils.
Visits to the petrol station would also require mixing in a bottle of Two Stroke oil with the petrol. This produced a pretty cloud of blue smoke wherever you went.
Had the car six months before being hit in the side at 40mph, by my friends Escort Mexico. No one injured as the Wartburg's 'huge chassis' took the full force, and saved me from a serious injury.